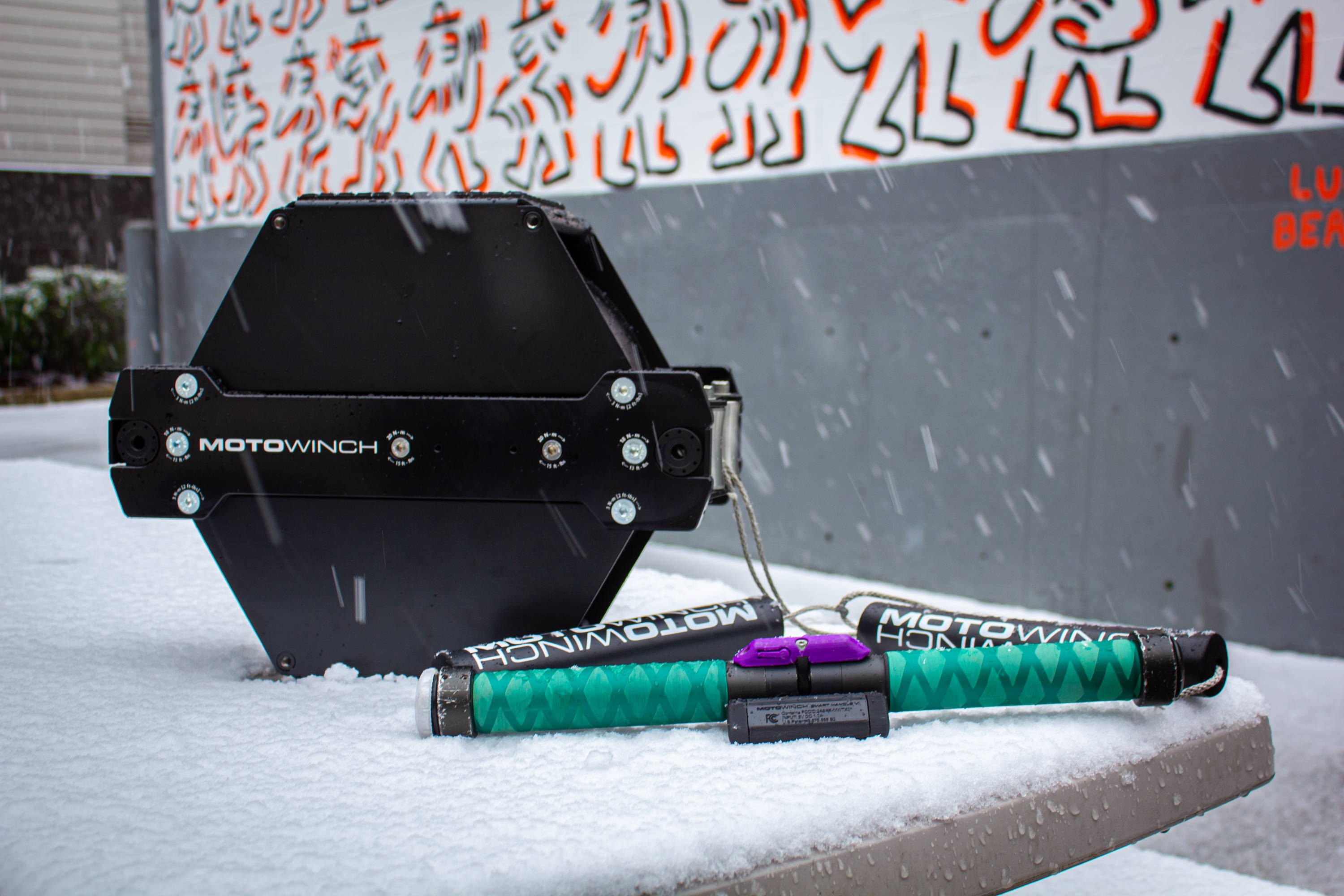 DO YOU USE MOTOWINCH IN WATER OR SNOW?
Motowinch isn't just another tool for outdoor enthusiasts – it's a revolution in multi-sport adaptability. With its radio- and remote-controlled (RC) electric winch, complete with a RC Smart Handle, it redefines the rider's experience by granting them full speed control and unmatched independence.
The Uniqueness of Motowinch
Motowinch stands alone as the only multi-sport, multi-season winch, making it your go-to fun-in-a-box solution. Whether you're in the heart of winter or the peak of summer, this versatile gadget seamlessly fits into your sporting routine. Dive into the water or race down snowy terrains; with Motowinch, the choice is yours. As a rider, its adaptability lets you explore various sports across seasons, embracing them all or specializing in just one.
Winters with Motowinch
When the air gets chilly and landscapes turn white, Motowinch shines. Be it skis, snowboards, sleds, or toboggans, this device makes the most of the snowy season. Riders have creatively used Motowinch to craft their private mountains, effortlessly towing upwards for a downhill experience. For the daredevils, constructing ramps for dramatic jumps is just another day in the park. And for the fortunate, surfing the powdery snow offers a thrill like no other.
Springs of Unlimited Possibilities
As winter recedes, and spring takes charge, Motowinch remains your perfect adventure partner. Whether you're looking to extend the snowboard season or wishing for a tropical escape to places like the Florida Keys, just grab your Motowinch and set off. The later spring days open up a myriad of water sports opportunities – be it skimboarding, wakeboarding, wakeskating, SUP, foiling, kitesurfing, windsurfing, or traditional surfing.
Sizzling Summers with Motowinch
Come summer, and the beaches beckon. Motowinch riders are often seen basking under the sun, setting up their gear on sandy shores. The RC Smart Handle ensures that even solo riders can fully enjoy their session, taking control of their experience. However, it's essential to be mindful of crowded areas, ensuring the safety of oneself and fellow beachgoers.
The Fall Fantasy
As leaves change color and the air hints at the approaching cold, Motowinch enthusiasts are already scouting new spots for their next adventure. The fall season brings with it a nostalgic charm, making riders fall back in love with their Motowinch, anticipating the varied joys each day brings.
Your Adventure Awaits
Across seasons and sports, one thing remains constant – the unparalleled experience that Motowinch offers. Ready to embark on year-round adventures? Find out more and get yours here!